The International Conference
on Environmental Science and Technology
Swamp Tours


New Orleans sits along the Mississippi River, surrounded by lakes, swamps, and marshes. It is surprising how many people have never set foot into the swamps and marshes, to experience nature as it has always been. With urban sprawl, much of these wetlands have been drained and filled for use as subdivisions, shopping centers and golf courses. Fortunately, governments on the federal and state level have created parks and wildlife refuges to preserve this fragile eco system. With some restrictions, we are able to venture into this natural environment to see these animals up close, with little danger to them or ourselves.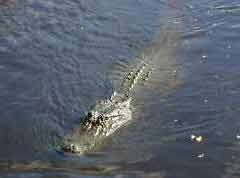 There are several state and national parks and wildlife refuges surrounding New Orleans that provide the public with access and swamp tours. Bayou Sauvage Wildlife Refuge to the east of New Orleans and Jean Lafitte National Historical Park to the south of New Orleans, along the route to Barataria, are two that are readily accessible.
Swamp tours are becoming a popular, comfortable and safe way to experience the natural beauty of swamps and bayous of Southeastern Louisiana. Many swamp tour companies are just a couple of miles from downtown New Orleans, the tours last just a couple of hours, and are on large, stable boats with restroom facilities on board. You can do it in one day, and still have some time left over. If you like photography, it is a great opportunity to get some impressive photographs, with little risk to life or limb.

Swamp Tour Operators:
Airboat Adventures
All-terrain airboats carry six passengers in comfort.
Capt. Nick's Wildlife Safaris
New Orleans Louisiana Fishing Charters and Swamp Marsh Tours by Capt. Nick.
Cypress Swamp Tours
Nestled in the heart of a working Cajun Fishing Village at Bayou Segnette..
Gray Line Swamp Tours
Grayline offers a variety of New Orleans tours.
Honey Island Swamp Tours
One of the wildest and most pristine river swamps in America.
Jean Lafitte Swamp Tours
Located only twenty-five minutes from New Orleans.
Louisiana Swamp Tours
Coast Guard approved, 60 passenger tour boats with removable Lexan windows for cold and rainy weather.
Maps: